P-R-I-M-E-R Jungle Battles
Storyboard for P-R-I-M-E-R (Jungle Battles), 2014
Mixed-media installation (book pages, image clippings, paper, black embossing tape, inkjet prints, pins); dimensions variable.
to view, please arrow through the image sequence; image captions will present upon hover
Excerpt from Tarzan of the Apes (Chapter 6, "Jungle Battles"). Author: Edgar Rice Burroughs, 1912. (©Edgar Rice Burroughs, Inc.)
Armed guards watch out for attackers as Chilean president Salvador Allende steps outside La Moneda Presidential Palace during the military coup d'état. September 11, 1973. (Photo: Luis Orlando Lagos Vázquez/Getty Images)
A rebel fighter mans an antiaircraft gun, next to an opposition flag, in the desert on the outskirts of Ajdabiya, Libya, 2011. (Photo: Ben Curtis/Associated Press)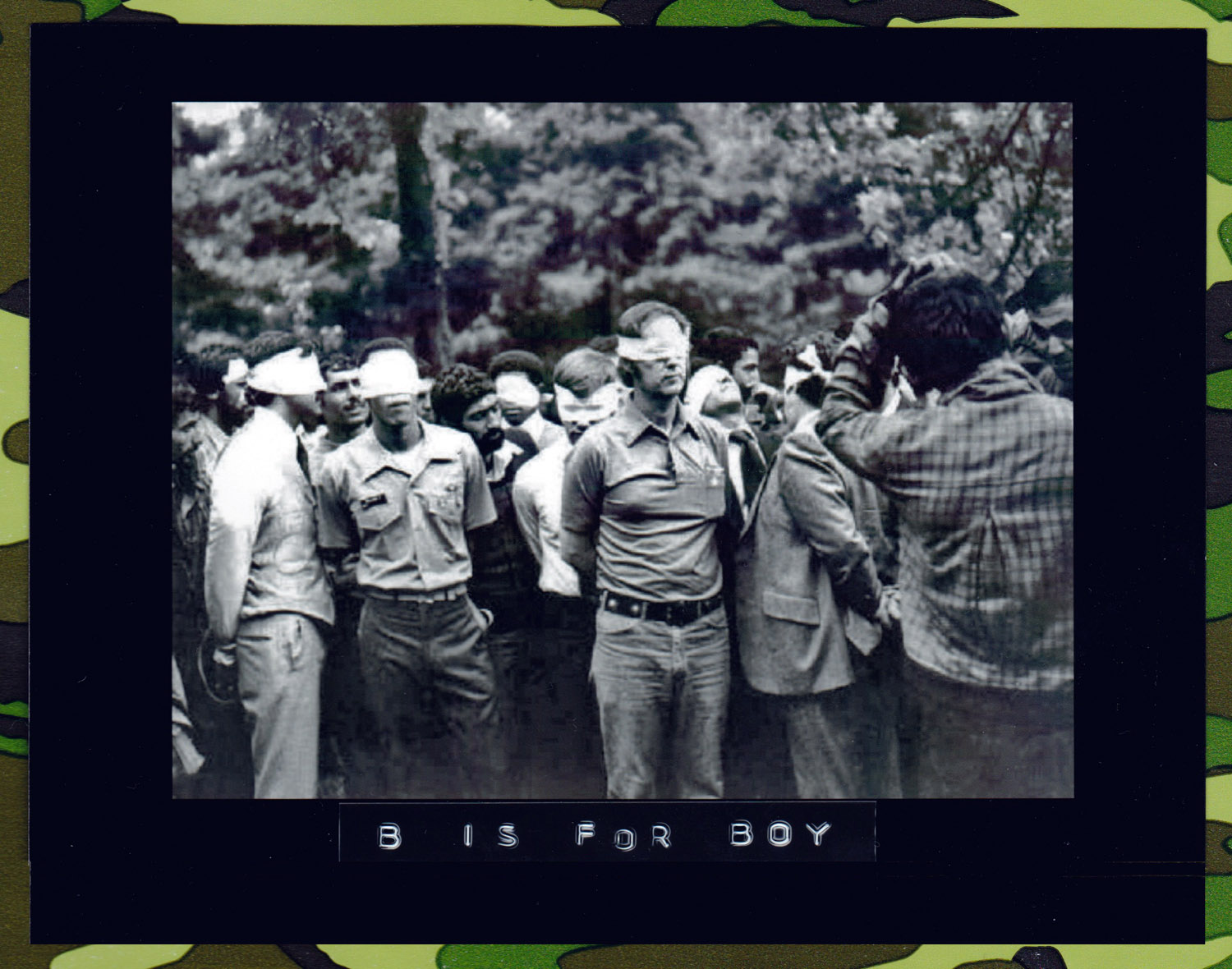 Blindfolded American hostages are gathered before the public and photographed by their Iranian captors on November 4, 1979, the first day of occupation of the U.S. Embassy in Tehran. The picture, obtained by UPI after the FBI showed no interest, was brought into the U.S. by an Iranian.
U.S. Sergeant Ladell Maples (left), USMC Embassy Guard, and Corporal Steve Kirtley (right), USMC Guard, are taken prisoner, U.S. Embassy, Teheran, Iran. 1979. (Photographer: Unknown)
U.S. Sergeant Ken Kozakiewicz cries as he learns that the body bag, next to him in the medical evacuation helicopter, contains the body of his friend Andy Alaniz, who was killed by friendly fire on the last day of the Gulf War. Iraq/Kuwait, February, 1991. (Photo: David Turnley, Black Star/Detroit Free Press)
Archbishop Oscar Romero minutes after he was shot celebrating mass at a small chapel located in a hospital called "La Divina Providencia" on March 24, 1980, one day after a sermon in which he had called on Salvadoran soldiers, as Christians, to obey God's higher order and to stop carrying out the government's repression and violations of basic human rights. (Photographer: Unknown)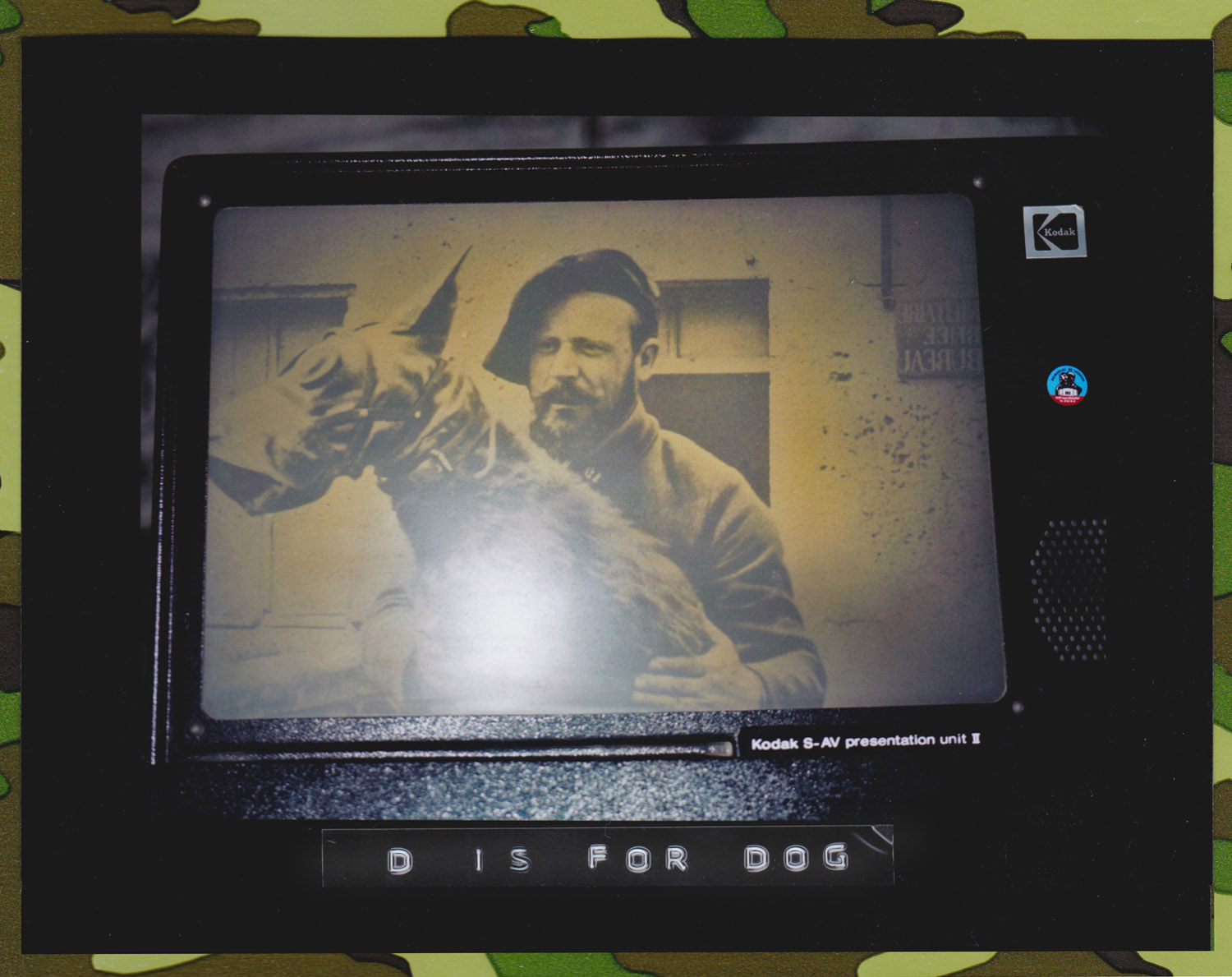 WWI Battle of Verdun memorial display, 2001. (Photo: Madeline Djerejian)
Torture Standard Operating Procedure Abu Ghraib. Dogs and Prisoner- Reenactment, 2008. (Photo: Nubar Alexanian)
Nicholas Hall, a stateroom in the Winter Palace, St. Petersburg, was rechristened the Tsarevich Alexey Nikolayevich Hospital in October 1915 and used as a hospital ward during World War I. (Photographer: I. Ostup)
A funeral in Ajdabiya. Libya, for an opposition fighter killed on Wednesday March 3 2011, during clashes with the forces of the Libyan leader, Col. Muammar el-Qaddafi. (Photo: Tyler Hicks/The New York Times)
In his Feb. 5, 2003 address to the United Nations Security Council, U.S. Secretary of State Colin Powell holds up a vial he said could contain anthrax as he presents evidence of Iraq's alleged weapons programs. (Photo: Ray Stubblebine/Reuters)
Tunisian President Zine El-Abidine Ben Ali (second left) visits Mohamed Al Bouazzizi (right) at the hospital in Ben Arous near Tunis on December 28, 2010. (Photo: Handout from Tunisian Presidency of Zine El-Abidine Ben Ali/Getty Images)
Assassination of Egyptian President Anwar Sadat during the annual victory parade held in Cairo to celebrate Egypt's crossing of the Suez Canal. 6 October 1981. (Photo: Makaram Gad Alkareem/Agence France-Presse/Getty Images)
U.S. Army photo from Abu Ghraib prison in Iraq showing Pvt. Lynndie England holding a leash attached to a prisoner collapsed on the floor, known to the guards as "Gus." (Source: U.S. Army. Department of Defense)
Mohammad Rezā Shāh Pahlavi, Shah of Iran, teaches Farsi to a youth. (Photographer: Unknown)
Johnny and Luther Htoo, twin brothers and joint Commanders of God's Army, a splinter group of Karen National Union: Johnny Htoo (left), a 12-year old Karen boy watches as his twin brother Luther smokes a Myanmar cigar during a meeting with The Associated Press at their jungle base of Ka Mar Pa Law in Myanmar opposite Thailand's Ratchaburi province, 59 miles west of Bangkok, Dec. 6, 1999. (Photo: Apichart Weerawong/Associated Press)
Flying under radar control with a B-66 Destroyer, Air Force F-105 Thunderchief pilots bomb a military target through low clouds over the southern panhandle of North Viet Nam. June 14, 1966. (Author Lt. Col. Cecil J. Poss, 20th TRS on RF-101C, USAF. Source: U.S. Defense Imagery)
Atomic explosion, Bikini Atoll. U.S. government scientists detonated a hydrogen bomb on the tiny island on March 1, 1954. The massive explosion vaporized everything on three islands in the atoll, raised water temperatures to 55,000 degrees and left a crater that was 1.2 miles wide and 240 feet deep. (Source: United States Dept. of Energy, or predecessor organization)
A public execution in Saudi Arabia. (Photographer: Unknown)
1 May 2011: U.S. President Barack Obama and his security team watch the Osama Bin Laden mission unfold while sitting in the White House Situation Room, thousands of miles away from the al-Qaeda leader's compound in Abbottabad, Pakistan. The 'real time' pictures were reportedly relayed to the White House via a video camera fixed to the helmet of a U.S. Navy Seal. (Photo: Pete Souza/White House)
The Nuremberg Trial (1945–1946). In the first row, from left to right: Hermann Göring, Rudolf Hess, and Joachim von Ribbentrop. In the back row, from left to right, Karl Dönitz, Erich Raeder (hidden), and Baldur von Schirach. Because of the bright light of the cameras filming the trial, the accused were given dark glasses. 1946. (Bildarchiv Preußischer Kulturbesitz)
A group of Benghazi citizens gather to burn hundreds of copies of Colonel Muammar Gaddafi's 'Green Book' near the court in Benghazi, Libya, 02 April 2011. The Green Book is a manual outlining the political strategy and philosophy of Libyan leader Gaddafi, and is a symbol of his 42-year rule which rebels fought to overthrow. (Photo: Manu Brabo/Associated Press)
Women surround Benazir Bhutto during a campaign stop on the outskirts of Lahore, Pakistan on November 12, 2007. Bhutto visited a home of a woman who lost her son in an Oct. 18 bombing in Karachi when Bhutto returned from exile to Pakistan. (Photo: David Guttenfelder/Associated Press)
More than 2,000 delegates at the UNISON national conference in Brighton don masks of Burma pro-democracy leader Aung San Suu Kyi in protest at her continued detention by the Burmese military. June 18, 2009. (Photo: Courtesy Burma Campaign UK)
NASA Mission Control, following announcement that the Challenger STS 51-L launch phase was not proceeding nominally: Flight Directors Jay H. Greene (right) and Alan L. (Lee) Briscoe study data on monitors at their consoles in the flight control room (FCR) of JSC Mission Control Center, 28 January 1986. (Source: NASA JSC Digital Image Collection)
CNN reports on the beginning of the Iraq War, or "Operation Iraqi Freedom", March 19, 2003.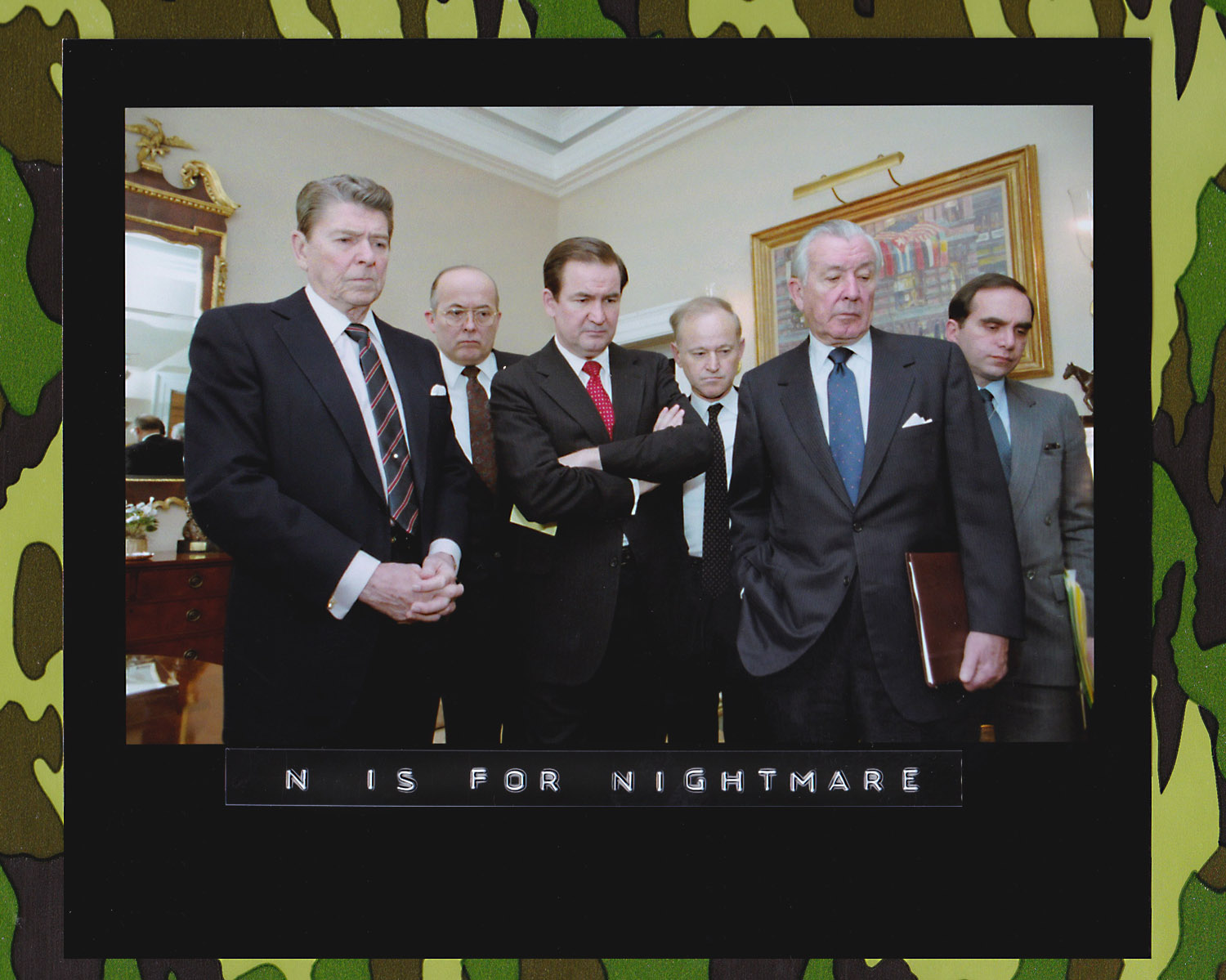 President Reagan and his staff watch the television in the wake of the Challenger explosion, waiting for news and watching replays of the disaster. Left to right: Ronald Reagan, James Poindexter, Pat Buchanan, Alfred Kingon, Don Regan, Edward Djerejian. (Photo: Bill Fitzpatrick/Courtesy of the Ronald Reagan Library)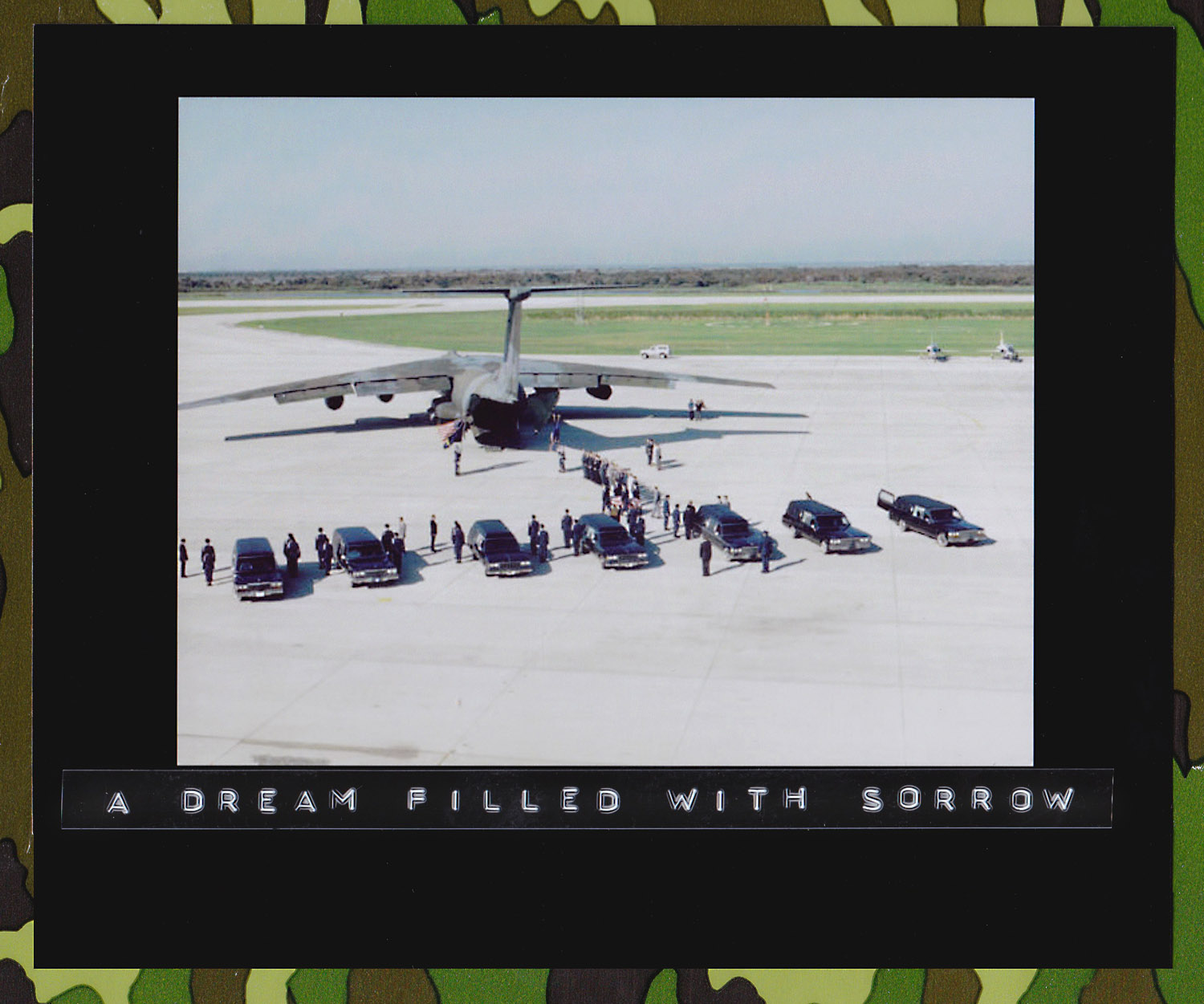 The Space Shuttle Challenger crewmember remains are transferred from 7 hearse vehicles to a MAC C-141 transport plane at the Kennedy Space Center's Shuttle Landing Facility for transport to Dover Air Force Base, Delaware. The STS-51L crew consisted of: Pilot, Mike Smith; Commander, Dick Scobee; Mission Specialist, Ron McNair; Mission Specialist, Ellison S. Onizuka; Payload Specialist, Greg Jarvis; Mission Specialist, Judy Resnik; and Teacher in Space Participant Sharon Christa McAuliffe. 30 August 1988. (Source: NASA JSC Digital Image Collection)
"Art, Truth and Politics", Nobel Lecture by Harold Pinter, recipient of the Nobel Prize in Literature 2005. His lecture, pre-recorded in a More 4 studio (Sun., 4 Dec. 2005), was shown on video at the Swedish Academy, in Börssalen, Stockholm, on Wednesday, 7 Dec. 2005. (Photo: Janerik Henriksson/European Pressphoto Agency)
(right) Mahmoud Darwish (1941-2008), Palestinian poet, and (left) Edward Said (1935–2003) Palestinian-American literary theorist. Photo c. 2002, (Photographer: Unknown)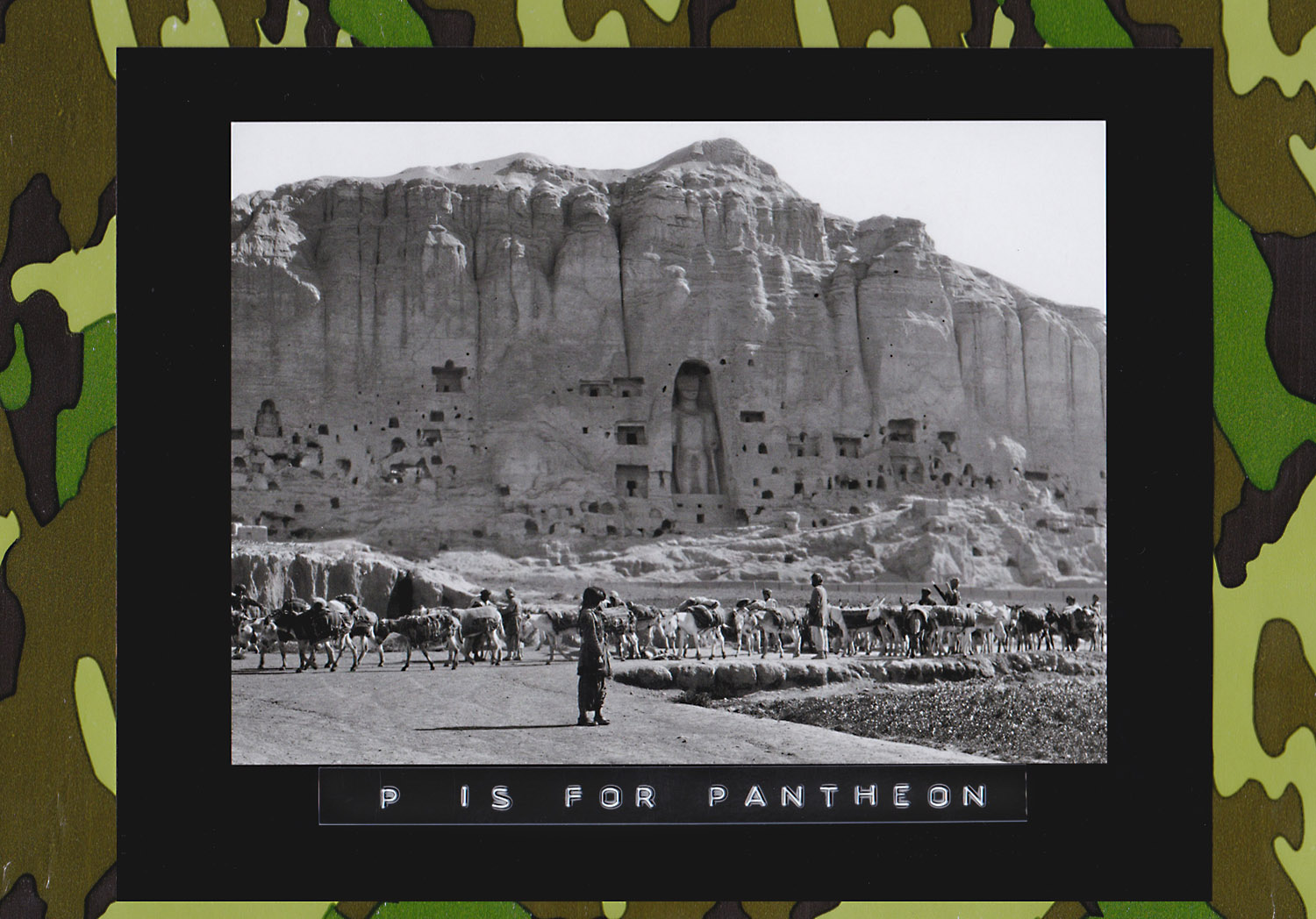 One of the giant Buddha statues in Bamiyan, Afghanistan. 1931. (Photo by Maynard Owen Williams who worked for National Geographic)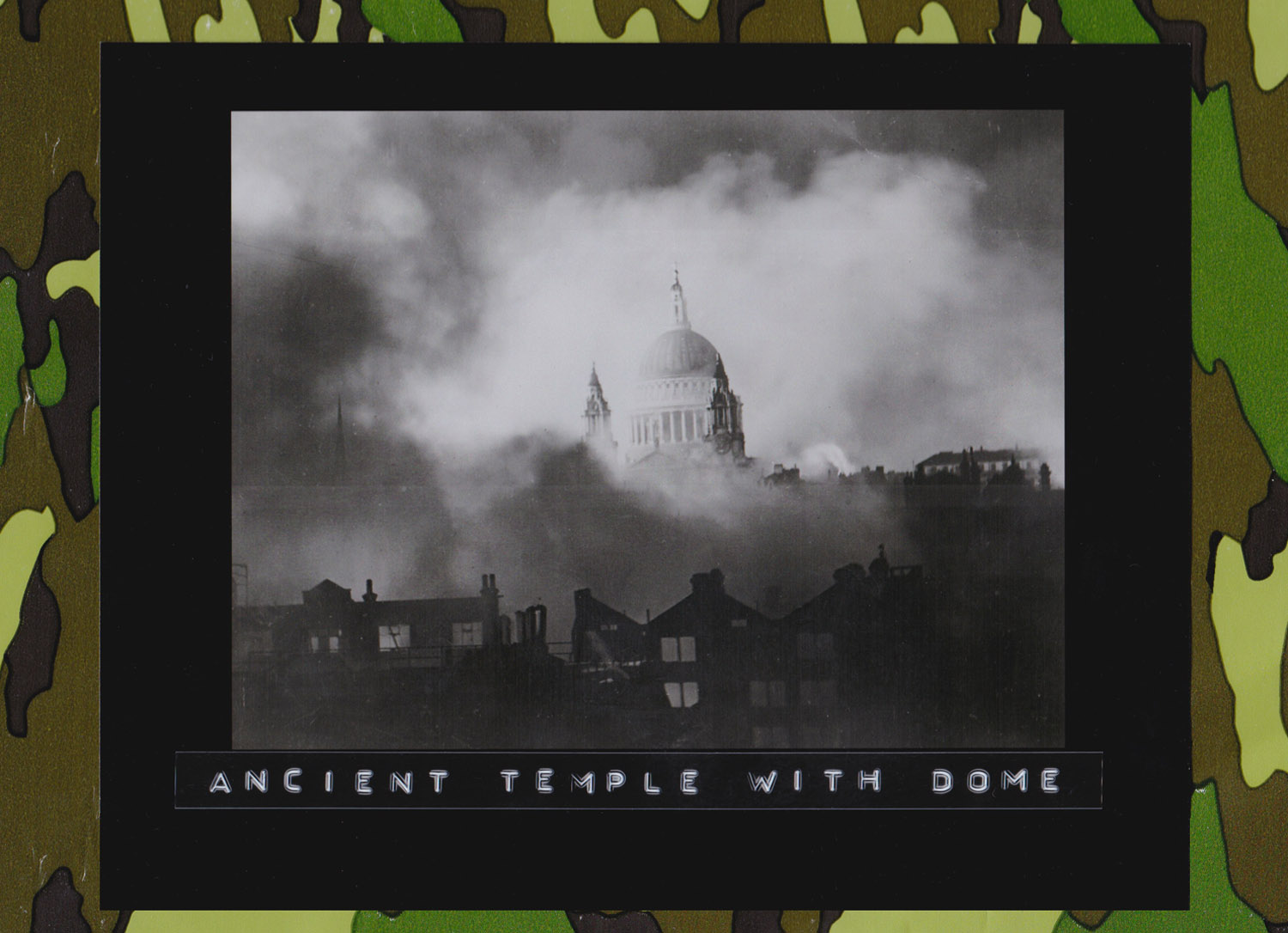 St. Paul's Cathedral photographed through the flames and smoke of surrounding buildings during the great fire raid of Sunday December 29, 1940, the 114th night of the Blitz, London. (Photo: Herbert Mason)
Col. Muammar Gaddafi and Major-General Abu-Bakr Yunis Jaber pray in the Libyan desert near Surt, August 1973, during the early days of the Al-Fateh Revolution in Libya. (Photographer Unknown)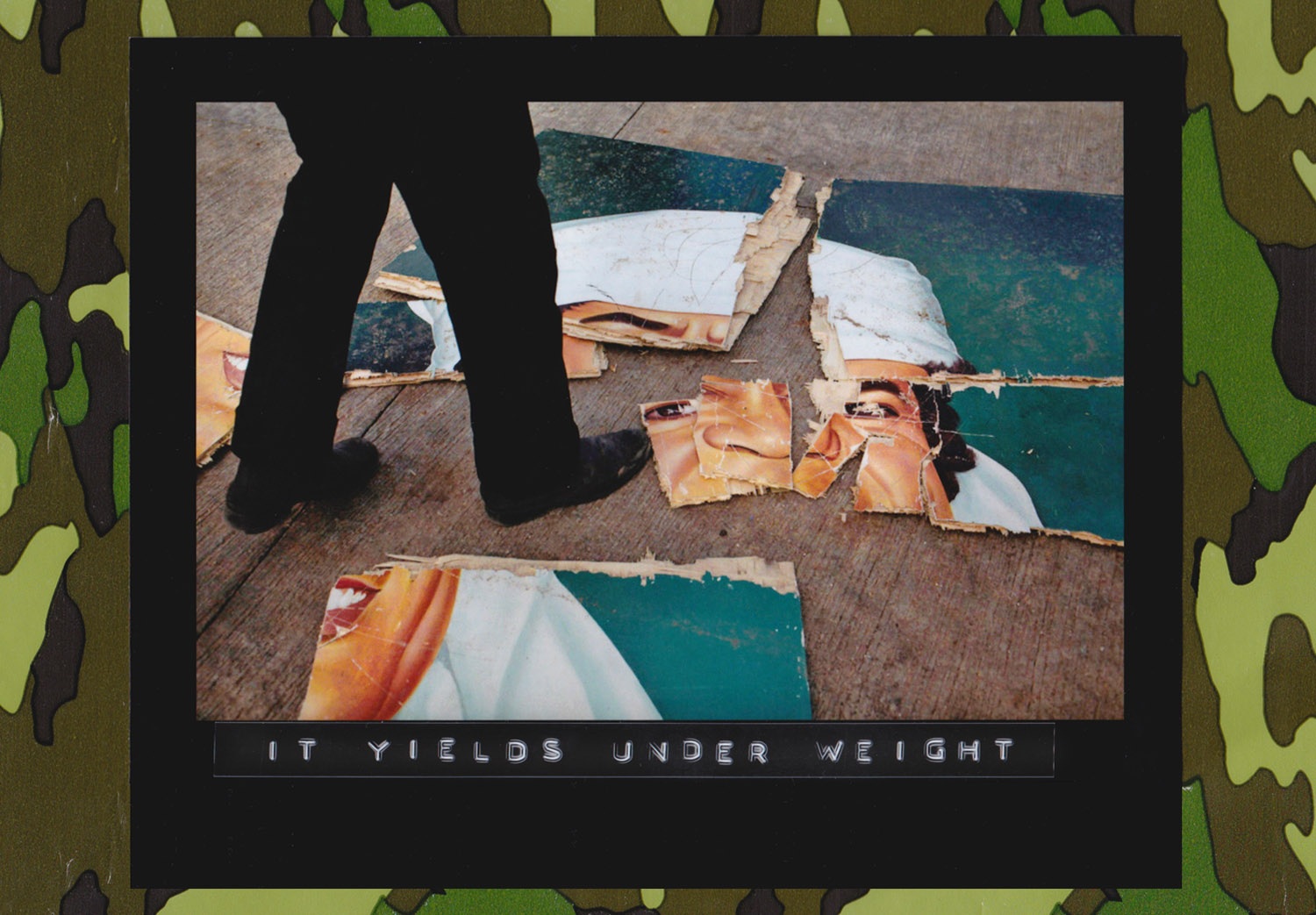 A torn portrait of Col. Muammar el-Qaddafi at the airport in Bayda, Libya, where several days of heavy fighting reportedly took place between pro-Qaddafi militias and opposition gunmen. February 23, 2011. (Photo: Ed Ou/The New York Times)
Detainees in orange jumpsuits sit in a holding area under guard by military police at Camp X-Ray inside U.S. Naval Base Guantánamo Bay, Cuba, during their processing into the temporary detention facility, Jan. 11, 2002. (Photo: U.S. Navy)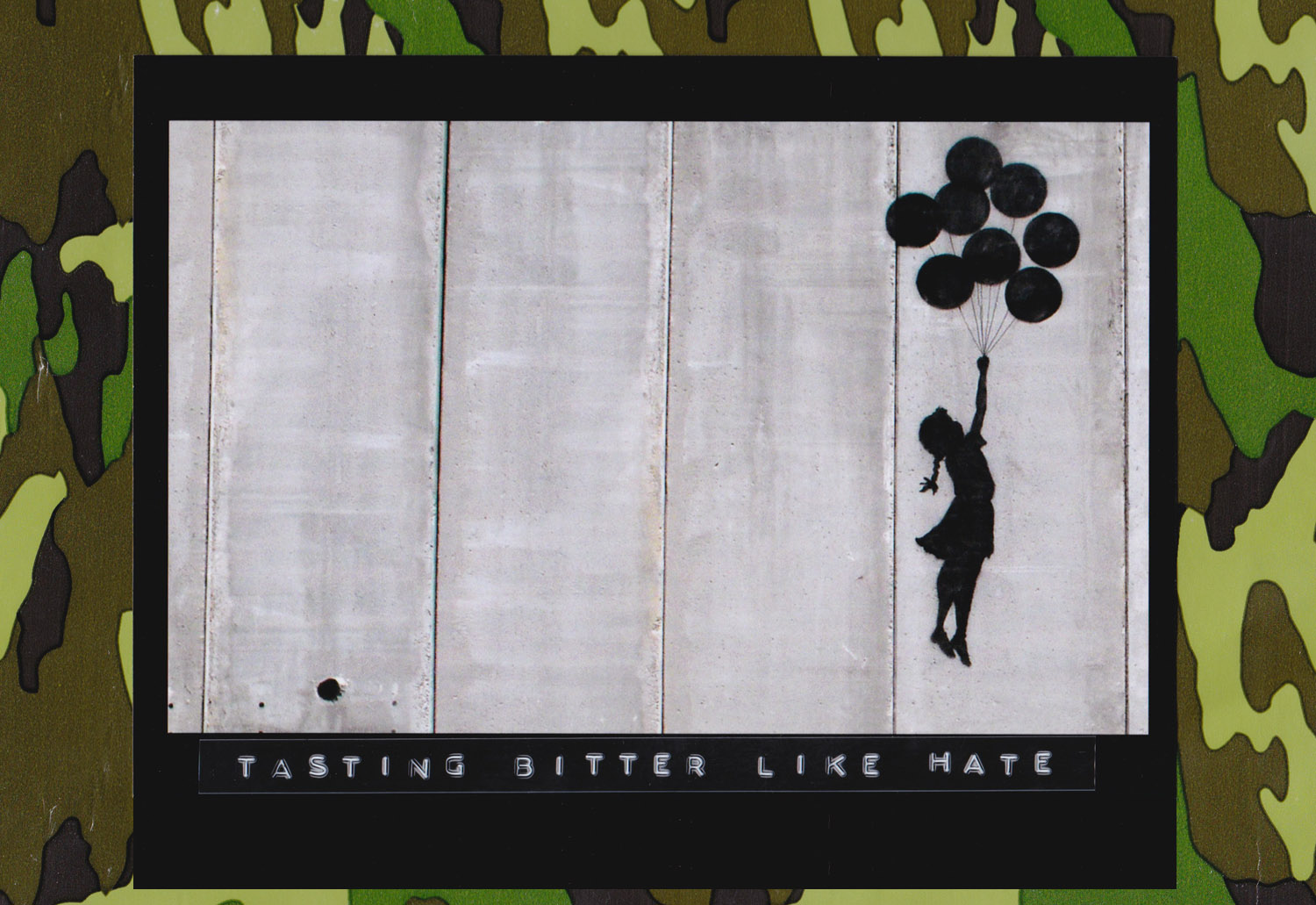 UK artist Banksy's graffiti work, Balloon Girl, on the barrier wall around Qalqiliya, a Palestinian city in the West Bank. (Photographer Unknown]
Allied forces target Iraqi forces during Operation Desert Storm. 1991. (Source: The History Channel, Desert Storm: the Air Campaign)
An Allied SAM (Surface to Air Missile) during Operation Desert Storm. 1991. (Source: The History Channel, Desert Storm: the Air Campaign)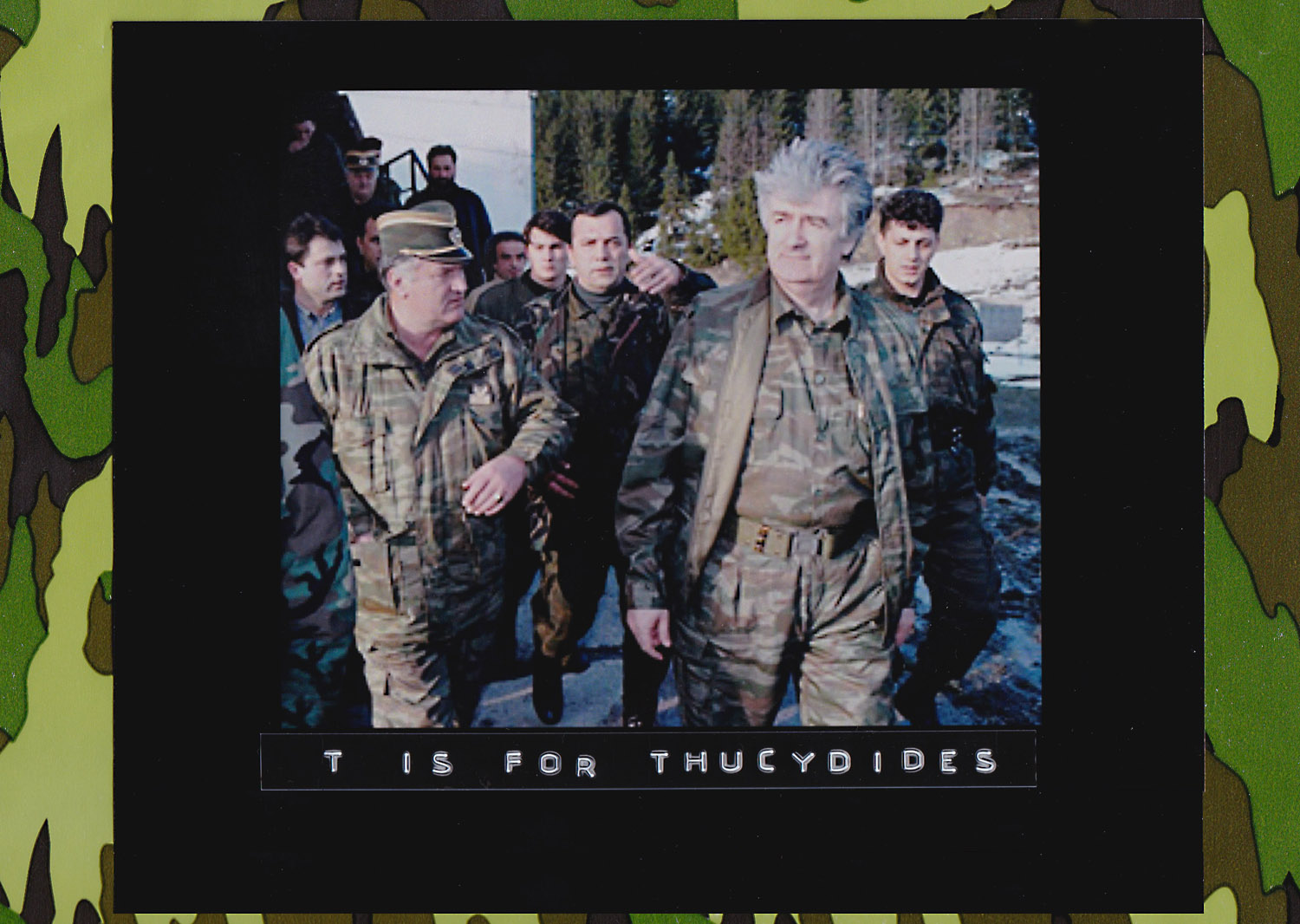 Bosnian Serb wartime leader, Radovan Karadzic (second right) and his general Ratko Mladic (first left) walk accompanied by bodyguards on Mount Vlasic frontline, April 15, 1995. (Photo: Sava Radovanovic/Associated Press)
335 coffins containing the identified bodies of victims of the Srebrenica massacre are displayed at an abandoned hall of a car battery factory in the memorial center Potocari near Srebrenica, some 47 miles northeast of Sarajevo, Bosnia-Herzegovina, on Saturday, July 10, 2004. (Photo: Amel Emrić/Associated Press)
A missile dropped in the vicinity of the residence of Col. Muammar el-Qaddafi in the Tripoli suburb of Tajura on Tuesday, March 29 2011. (Photo: Mahmud Turkia/Agence France-Presse/Getty Images.)
Worshipers, as an imam, standing on a stage and speaking through loudspeakers, gives a defiant, impassioned speech about liberating Tripoli, and the fight for justice and freedom. February 25, 2011. (Photo: Tyler Hicks/ The New York Times)
Suspected insurgents captured by U.S. Marines are led away by U.S. forces at the end of Operation Steel Curtain in North West Iraq, 2005. (Photo: Sean Smith/The Guardian, UK)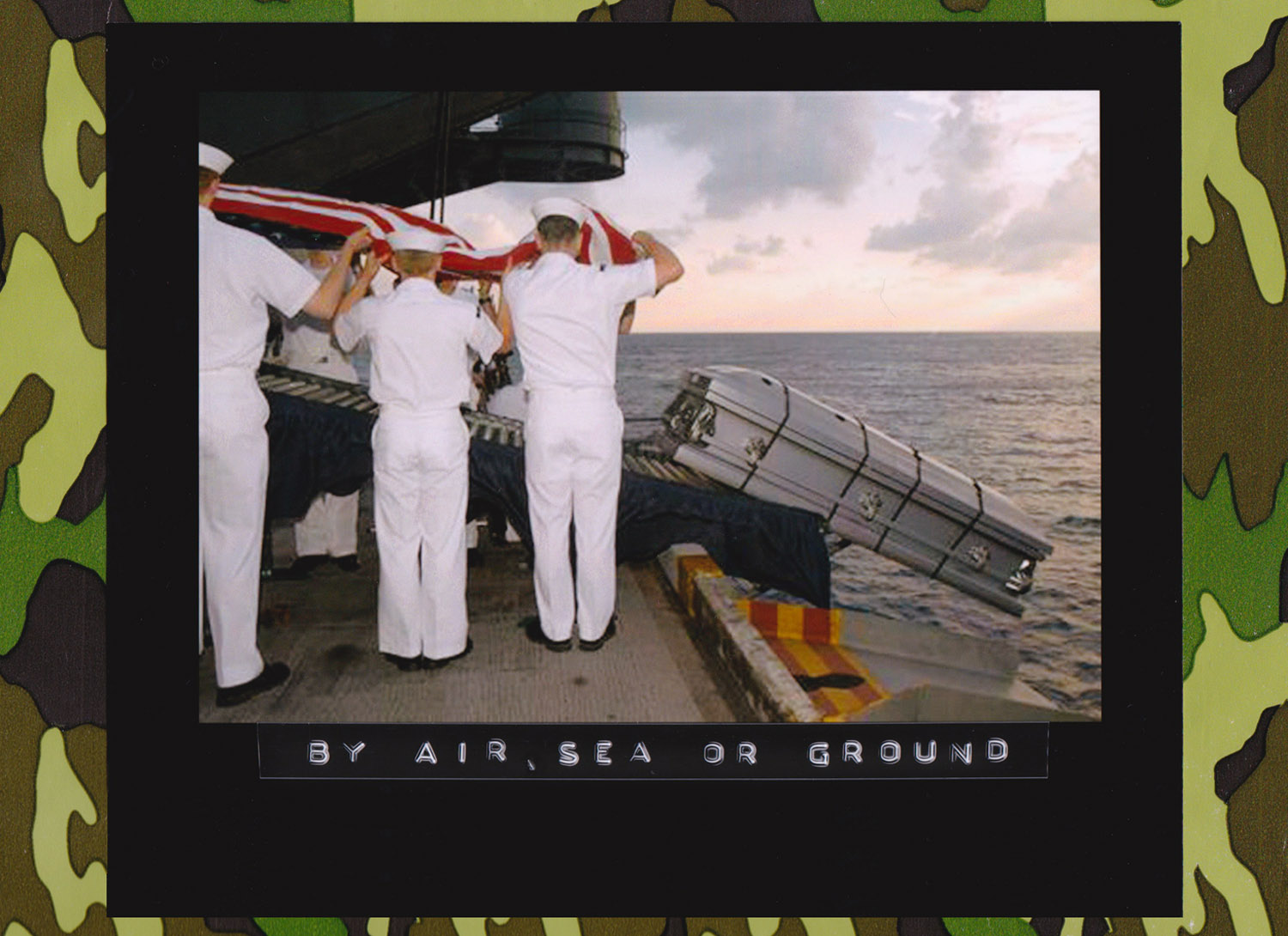 Atlantic Ocean: sailors commit to the sea the body of Machinist's Mate 3rd Class Nathan Taylor during a Burial at Sea ceremony conducted from the edge of one of the ship's aircraft elevators aboard the aircraft carrier USS Enterprise (CVN 65). May 19, 2004. (Photo by U.S. Navy Photographer's Mate Airman Rob Gaston)
A U.S. Army soldier uses a dummy to draw a sniper into view in Najaf, Iraq, Friday, Aug. 20, 2004. (Photo: Jim MacMillan/Associated Press)
Libyans pose for pictures with the body of Muatassim el-Qaddafi, the son of Colonel Qaddafi, at a house in Misurata, Oct 19, 2011. (Photo: Mauricio Lima//The New York Times).
A line of captured Iraqi soldiers are marched through the desert in Kuwait past a group of U.S. Marine Second Division vehicles Sunday morning, February 24, 1991, after the ground offensive got underway during the Persian Gulf War. (Photo: Sadayuki Mikami/Associated Press)
Seen in this March 1 1999 X-ray photograph taken by Mexican authorities, are a wide shot, on top, and a close up version of human forms and cargo in a truck on Mexico's southern border with Guatemala. The image was made using a mobile truck scanning system, or "Mobile Search" equipment. (Photo: Reforma Archivo)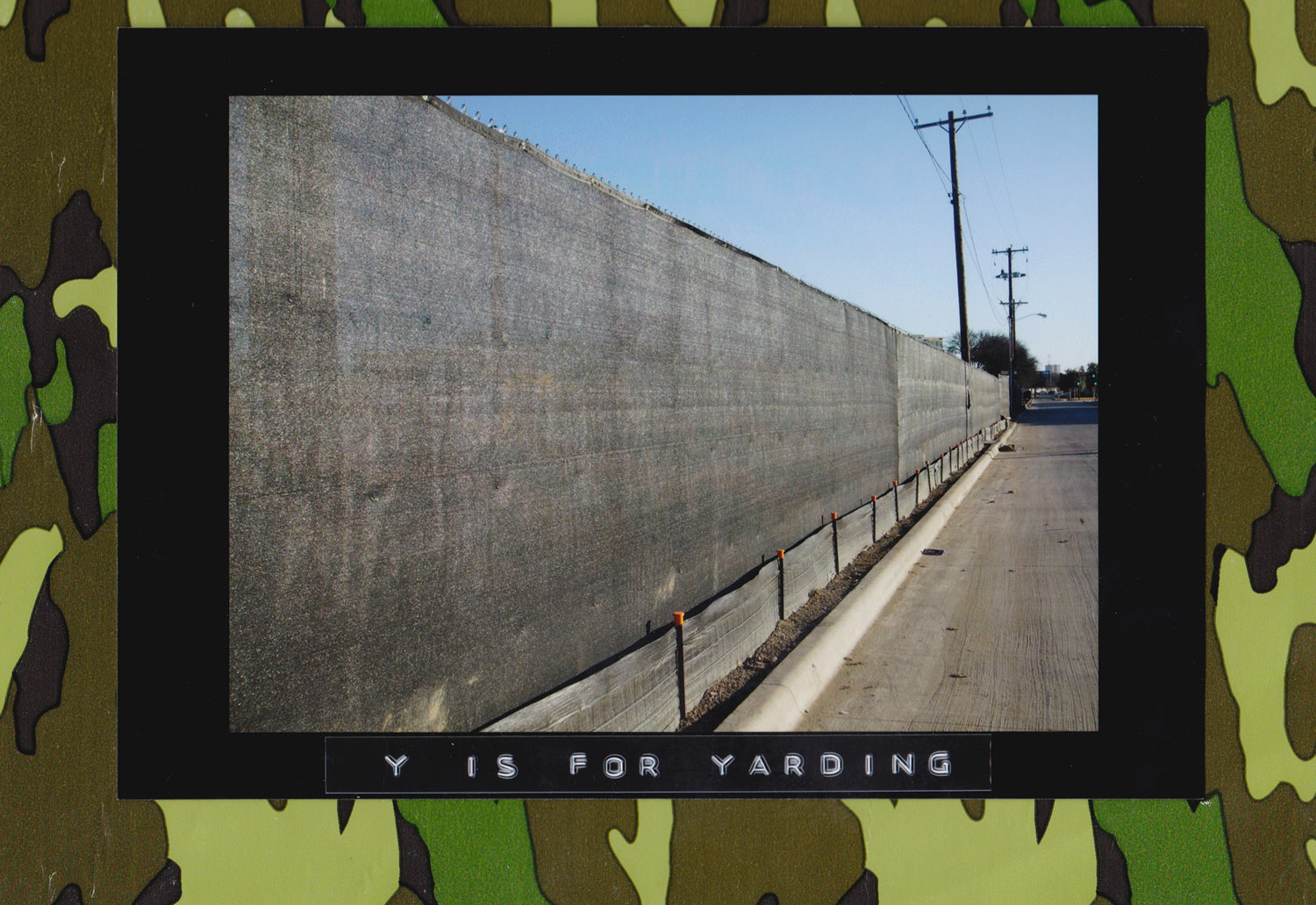 Temporary fencing around the building grounds for the George W. Bush Presidential Library, Dallas, TX, 2012. (Photo: Michael Corris)
An Iraqi prisoner of war with his 4-year-old son at a regrouping center for POWs captured by the U.S. Army 101st Airborne Division near An Najaf, Iraq. March 31, 2003. (Photo: Jean-Marc Bouju/Associated Press)
View from the Town Hall Tower, Dresden after the bombing, 1945. (Photo: Richard Peter (senior), Deutsche Fotothek)
Gaza City, beginning of the first Palestinian Intifada, December, 1987. (Photo: Anat Saragusti)
images: installation details, Storyboard for P-R-I-M-E-R (Jungle Battles)

"Should you seek an execrable language to learn, this primer we leave for you to discern."

Storyboard for P-R-I-M-E-R (Jungle Battles) is a visual narrative of text-image pairings fashioned after a child's illustrated English alphabet primer. A sequence of 52 photographs is captioned with rhyming and allusive text, and is prefaced by an excerpt from the 1912 novel Tarzan of the Apes by Edgar Rice Burroughs.

I love great documentary photography, but my role as artist is to question it, to question how it functions. Considering this, I sought to devise a work that would not only 'speak' of such images, but in re-presenting them, point a way to how we, as rapacious consumers of images, might today re-read or understand them. I selected 52 images from the media, sequencing them and adding my own narrative, and I prefaced my selection with an excerpt from "Tarzan of the Apes", Edgar Rice Burroughs' 1912 story of a boy raised in ignorance of his human heritage. In this excerpt, the young Tarzan comes across a child's illustrated language primer. A feral child, Tarzan cannot comprehend the words on the page, but the pictures he sees exert a powerful force, one so mysterious and intriguing that he later is moved to try and understand the connection between the images he sees and the "scratchings" (writings) that appear below them – he is moved to learn to read. Contemporary readers may choose to dismiss a colonial-era tale of adventure and entertainment, but there can be no doubt that with this passage Burroughs was onto something, for we are now (one hundred years later) a technological society saturated with image flux, yet we still grapple with the questions of how language – pictorial or otherwise– is learned, and how meaning becomes attached to an image.
P-R-I-M-E-R's sequence of pictures from disparate strife, removed from original context and conflated together to be taken as a whole… one asks what might the struggle voiced here be about? What are they – and therefore "we" as implicated viewers – battling for? Consider the subtext posited by Tarzan's illiterate condition and the 'urge' to overcome it as representing the white colonialist's idea of horror at the idea of incomprehension – of savagery, of primitivism. What kinds of readers and lookers are we today, and is there anything like 'the primitive' as it existed then, for the post-European mindset – for us right now? What now might we be looking at as a condition of underdevelopment, in terms of civilizing values? Is it computer illiteracy, web illiteracy, lack of social networking, lack of face-to-face interaction, lack of democracy, a decline of the West? And would our overcoming all or any one of these conditions make for "civilizing" values– if, in fact, they are "civilizing" values? Are any of them "civilizing" values? –MVD